ImagineIT: The Final Leg. Timeline.
Moving forward with my ImagineIT project this semester, I am anticipating at least 3 more entries in the students' Snapshot Math portfolio. Up to this point, most of the student work has been fairly superficial. I would like to see some deeper thinking and explanations of that thinking in future submissions. I believe part of the superficiality of the projects has been due to the math content studied thus far. The first couple units of study have been concentrated on arithmetic to algebra, expressions and the building and solving of linear equations. With that in mind, perhaps students were somewhat handcuffed with what they were able to submit/derive from their photos. I can only hope that as we move to graphs, lines, functions and quadratics that my students can dive into some deeper mathematics. I would love to see student projects that include audio or video analysis. I am enjoying watching the creativity and variety of projects so far…I never know what to expect when I open a student's portfolio. I want the students to have fun with this project while displaying their artistic and math abilities – perhaps the videos will be an exhilarating challenge. Finally, in my wildest dreams, students would crave to do more of this type of math project. They would continue to run with it and fill their portfolios with creative math beyond what was required. Those that truly "get it" would offer to help their classmates (or teachers) to assist others to successfully complete the project. Their projects will serve as models for future classes.

Powered by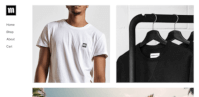 Create your own unique website with customizable templates.